In September 2014 I launched a series of stories following Jane McMurtry, an injured Army veteran who has spent her adult life training warrior dogs and partnering with them to find bombs and track missing soldiers in Iraq and Afghanistan. Jane comes home having suffered grievous injuries during an IED explosion. A double amputee, she must not only learn to walk again, but also face a life she can scarcely contemplate in light of deep psychological wounds. Alongside her dogs, she will strain to restore her life and build a professional career. With her human partner and investigator Dan Murphy, she will struggle to love and be loved.
Jane's story comes in three initial episodes (episodes 1 & 2, plus their prequel), each roughly half of a full novel's length. Written as a character-based thriller with a strong psychological component, each episode focuses on a particular set of challenges Jane faces. Together, these and subsequent episodes will unfurl her life and portray her search for redemption and love.
Below you will find summaries for each of the episodes. For additional information about the series, check out The Tracking Jane series in 8 Questions & Answers or Less.
Synopsis for the Prequel, Waiting for Shadow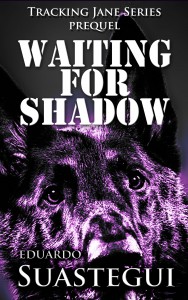 Major Jane McMurtry has learned to walk again after an IED ripped into her legs, but will she also rediscover how to live? Fitted with a new set of prosthetic legs, Jane can do more now. She can start tracking again with her new dog. She can go for long walks around her Colorado ranch. An opportunity for a career assisting law enforcement presents itself.
But much more is pressing down on Jane. She misses Shadow, the military K9 partner she trained and had to leave in Afghanistan. If he could come home. If she only had Shadow at her side, she'd handle things better. Unfortunately, it doesn't look like he'll come soon, not before he finishes his tour of duty. That's what Army regs and bureaucrats say. This leaves Jane to face her pain alone and either fold under its weight, or push on as best she can.
Synopsis for Episode 1, Shadow-7
| | | | |
| --- | --- | --- | --- |
| Order now » | | | |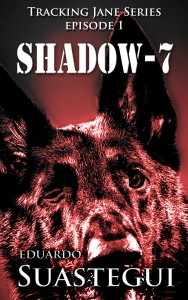 Army canine trainer and handler Jane McMurtry served in Afghanistan with her dog Shadow until an IED blew her legs away. Now, after learning to walk again, alongside a new canine companion, Jane is tracking the scent of kidnapped children in the Colorado high country when her past, her inner turmoil, and her current case collide.
Though Jane thought she'd have to wait two more years, Shadow returns home when he himself suffers injuries. Now two dogs and one woman will struggle to redeem and get on with their lives. In this struggle, Jane partners with a police officer who will make her face the choice between self-loathing and accepting someone's patient, unconditional love.
Synopsis for Episode 2, Rover
| | | | |
| --- | --- | --- | --- |
| Order now » | | | |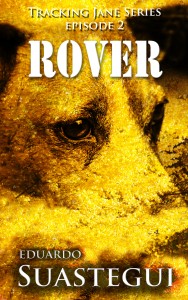 A suicide bombing in Denver International airport returns Jane McMurtry to the sort of tracking she left back in Afghanistan and Iraq – the kind that comes with large explosions, torn body parts, and few answers. The war has come home, or maybe it's always lurked here, inside her mind and soul.
Partnering again with Dan Murphy, now a member of a Federal task force, Jane will continue to grapple with how to make sense of her life and how to move on beyond her physical and psychological wounds. A small airport bomb-sniffing dog, Rover, will come alongside her to become an unlikely partner to find a terrorist network before they hit their ultimate target.
Synopsis for, Fleeting Shadow, an interlude story
Free and available exclusively to mail list subscribers » Join now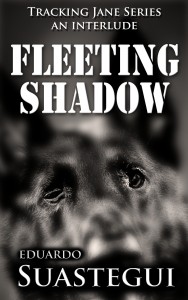 This story will cover details of what transpired between episodes 2 and 3 (Rover and Tahoe-1). A tad longer than a short story, and since I don't like the term "novelette," I am calling it an "interlude." As such, it comes as a quieter in-between movement (for symphony fans out there), but one which should reveal some interesting aspects of Jane's struggle, especially when it comes to Shadow's frailties. In addition we get to meet one of Jane's war buddies, Joseph (Joe) Brenner. He will play a prominent role in Blood Track.
Synopsis for Episode 3, Tahoe-1
| | | | |
| --- | --- | --- | --- |
| Order now » | | | |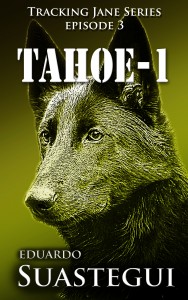 Along with Dan Murphy, Jane and her dogs Shady and Tahoe are hiking the Pacific Coast Trail when a series of earthquakes create emergency conditions. Jane will answer the call to assist a rescue operation–until she and her companions become stranded only to find they have become the object of someone's twisted hunt.
Finding their way through the High Sierras, Jane, Dan and her dogs will join forces in a struggle for survival against nature and those seeking ill advantage in its mayhem. Here, with nothing but herself, her dogs, and the man that loves her, Jane will face the God of nature and men who pervert his justice. Here she will race to find answers before the ground beneath her gives way and the world around her crumbles and explodes.
Synopsis for Episode 4, Brownie
| | | | |
| --- | --- | --- | --- |
| Order now » | | | |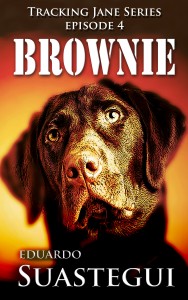 Allison's rescue dog, Brownie, becomes the latest subject in Jane's training program. Raised as a drug detecting dog, he joins Allison, Jane, and Jane's two other dogs in an undercover mission to infiltrate a Mexican drug cartel. Under the auspices of training guard and drug dogs for a major Mexican cartel, Allison and Jane will work to identify Middle East terrorist elements now embedded with the mobsters.
The two women will find themselves as the bait, the keys to technology these terrorists will do anything to obtain. Or so they think. All the while, Jane will struggle with her friend's increasing unpredictability and question her trustworthiness. But learning that the cartel is forcing immigrant children to mule their drugs will challenge Jane the most. She will have to decide whether to maintain her cover or assist twenty stranded kids in the New Mexico desert.
Synopsis for Episode 5, Blood Track
| | | | |
| --- | --- | --- | --- |
| Order now » | | | |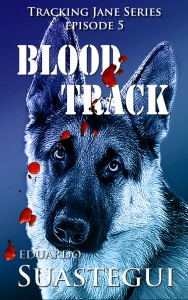 Jane McMurtry and Joe Brenner trained together and fought side by side during her first tour in Iraq. Now Joe has gone into hiding after allegedly murdering his wife and children. Like Jane, he suffers from PTSD. Like Jane he lost two legs in an IED explosion. Like her, he has benefited from specialized prosthetics. And because of the common past he and Jane share, it will fall on Jane to find him and bring him back into the fold. For Jane this will come at a heavy cost. To help him, she will have to face the demons the two of them share and the feelings she once had for him.
Synopsis for Episode 6, Heart Track
| | | | |
| --- | --- | --- | --- |
| Order now » | | | |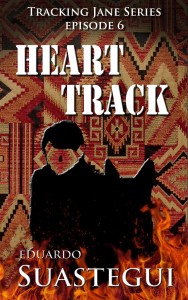 Jane returns home to Wyoming, the home of her childhood, to discover her brother has become embroiled in an apparent plot to attach land to a nearby Indian reservation. Or so it seems. Soon, Jane and her dogs will join an investigation involving a bizarre web of domestic terrorism, serial murders, and greed. Along the way Jane will examine her Native American heritage, and will grapple with what–if anything–she can do to help an oppressed and disenchanted people.
Synopsis for Episode 7, Wounded Honor
| | | | |
| --- | --- | --- | --- |
| Order now » | | | |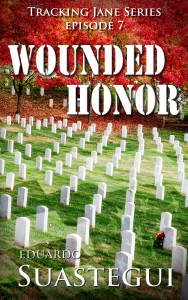 Will this be the final episode in the Tracking Jane saga? The answer to this question will come in Jane's toughest struggle yet to face what has happened to her body and what it is making her become. In the midst of political manipulation and intrigue, she will grapple with her very identity, what makes her human, and she will fight alongside others facing the same conundrum.
More details coming soon… Keep checking here for updates. Join our Reader's Club to stay up on future announcements.